FAQs :: 1. Get started
1.1. Why use Fiabee?
Do you want the files on your computer to automatically synchronize with your other computers and mobile devices?
Do you want to share folders and files with others in a single click, as well as have full control over your data and individually assign specific permission categories to those you share with?
Do you want to automatically bring together all of your data files and photos spread across the Internet, in Facebook, Picasa, Flickr, Google Docs, etc. all into one single place?
Do you want to make photos with your Android and automatically replicate it in all of your PCs as well as those of the people you want to share them with?
Do you want to be able to send a link to your files from your mobile or the web? You'll be sure that your files don't bounce and your contacts will be grateful that you're not overwhelming up their inbox.
Do you want to have a secure automatic copy of your computer files, the photos on your phone and all of the files you've accumulated with time across multiple online services?
Fiabee is your answer to these countless questions and common obstacles. To put it simply, Fiabee will simplify your life.
Fiabee is a program that safely and securely uploads your files online and lets you have access to them, always updated, from any computer, mobile or browser at any time.
1.2. What can Fiabee do for me?
Fiabee is a service that allows you to consolidate and bring together into one place all of your data normally spread across the web, multiple computers and mobiles, while keeping the files automatically synchronized for up-to-date on the go access from any of your devices, anywhere you go.
3 Cases of Fiabee to the rescue:
Keep the files you have spread across the web and social networks in one single place.

Fiabee allows you to centralize your photos, contacts and files that you have in your social network profiles into one single place. Fiabee is compatible with popular online services such as Google Docs, Facebook, Flickr, Picasa, etc. Once you've linked your Fiabee account to these other accounts, you will have all of the information available in one single place: your Fiabee account.

No need to carry more USB storage sticks - Your files follow you wherever you go!

Your files will always be up-to-date anywhere you are. Once you've installed Fiabee on your PC, you'll find a "Fiabee" folder under "My Documents". Any changes you make to the files or folders within the Fiabee folder, will automatically appear on all of the other devices running Fiabee. You'll also always have access to all of your files from the Fiabee website.

Quickly share files

Sending files via email is not very efficient, they can bounce because of size limitations or overload email storage quotas. Fiabee allows you to share complete folders or individual files with your contacts with just a simple click. Plus you'll be able to decide what recipients can do with your files. Fiabee allows you to have efficient control over the information you share with third parties.
1.3. How to install Fiabee on my computer?
If you install the Fiabee desktop application on your computer, you'll be able to synchronize your local folders and share them with others directly from your PC (if you don't install the app, you'll also be able to share files from the Fiabee website).
To install the desktop application:
Access your account on https://www.fiabee.com
Click on "Download Fiabee" and the download will start.
Once the download is complete, click on the executable installation file and follow simple instructions to correctly complete the installation process.
1.4. How to upload files from my PC to Fiabee
Once you've correctly installed the Fiabee application on your computer (Windows), you'll find a "Fiabee" folder under "My Documents".
Any files or folders that you make or drag into the "Fiabee" folder will automatically upload to your Fiabee account. Any changes you make to these files or folders, will also automatically save in Fiabee.
1.5. How to synchronize my files between my computer and my mobile
If you install the Fiabee for PC application in your computers, using the same account for each one of them, all of the files you've saved locally in Fiabee will also replicate automatically in across all of your computers.
Likewise, in order to access your files from your mobile, you'll need to install the Fiabee application according to the model you use.
This way all of your computers and mobiles are connected and automatically give you complete access to your files across all of your devices.
1.6. Sharing folders with others using my PC
Fiabee allows you to share folders and files with other users. When sharing, you'll also be able to decide what the user you've given access to can do with the files or folders you've assigned him, by giving him specific permission.
In order to share folders:
Right-click on the folder you want to share.
It will show a menu; click on "Fiabee Sync" and then on "Share".
Your browser will open, showing your Fiabee account.
You will access the menu that allows you to manage users and their permission levels.
Type in the email addresses of the users with whom you want to share the folder.
Select the permission level you want to assign to the user you're sending the invitation to:

See, modify and share:

this means the user can edit, change or delete the shared folder and its contents. The changes will also appear in the folder you've shared with him. The user will also be able to share the folder at his discretion.

See and modify:

the same permission as the previous one, except that this level will not allow the user to share the folder with others.

See:

The user will have a local copy of the shared folder on his PC, but any changes he makes to those files or their content, even if he deletes the file, will not be replicated in the folders of the other users he has shared with.

Send the folder sharing invitation and you're all set.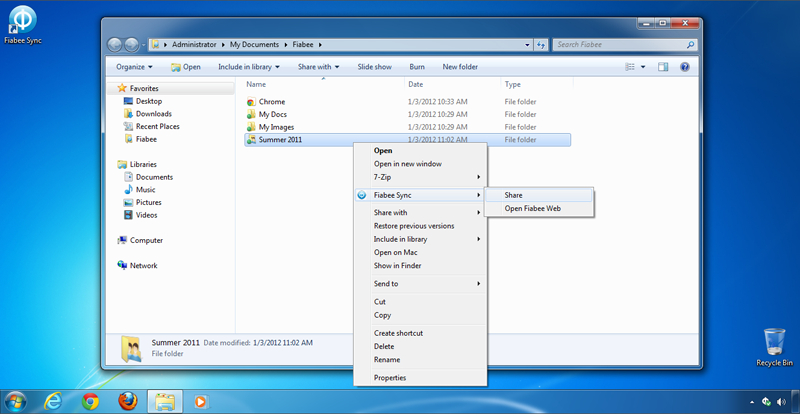 Start sharing folders with a right-click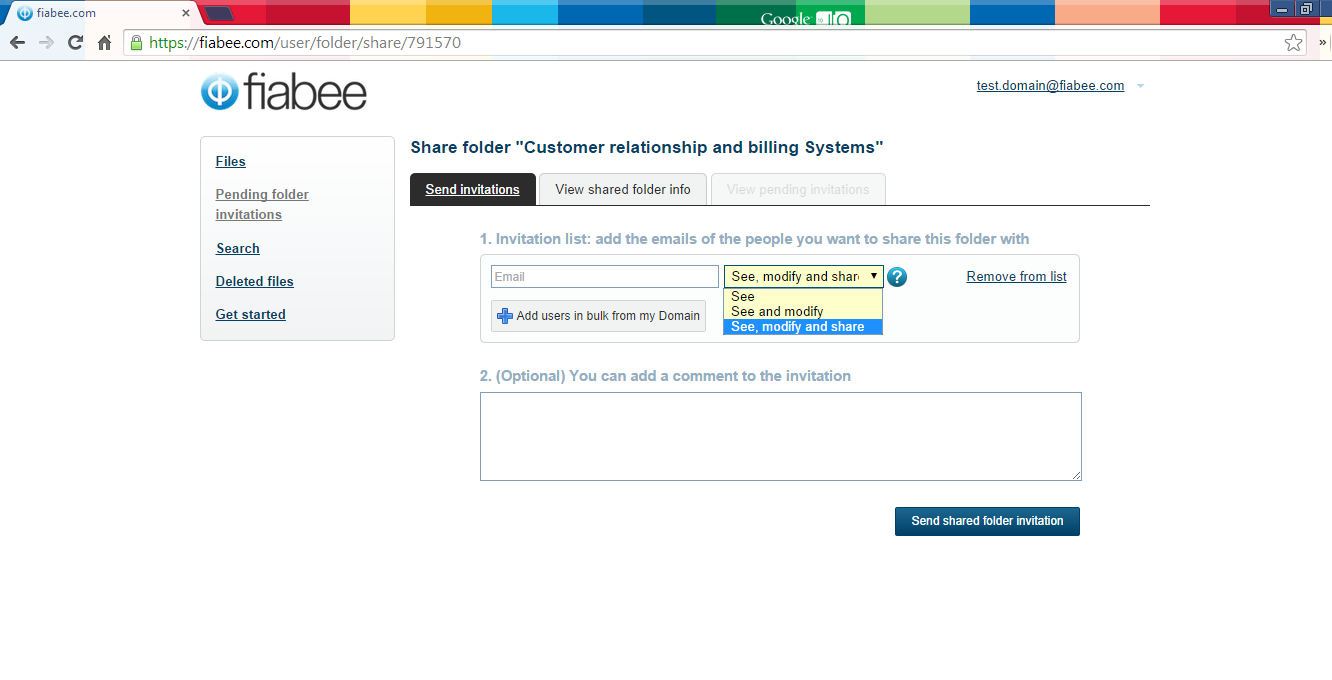 Manage users and folder permission levels
1.7. Share files using Fiabee for Mobile
Fiabee for mobile (Android) lets you review the files you have in your Fiabee account, as well as share them individually with others. This feature is very useful for sharing large files, files difficult to send through a mobile connection.
When you want to share a file, Fiabee allows you to create a download link for the file. You can share this link with third parties and they can then download when they receive it.
Instructions for sharing files:
Go to the Fiabee mobile application
Find the file you want to share in "My Fiabee" - it will be in the list of files and folders.
Select the file and open the contextual menu and select "Share".
Select the email program you wish to use to send the shared download link.
You will see the file information within the automatically generated email.
Send the email to the recipient of your choice.
During the next 24 hours he or she will be able to download the file you've shared using the link.
1.8. Downloading, changing and then uploading my files using the Fiabee website
You don't need to have the desktop application installed on your computer in order to work with your files on Fiabee. Fiabee allows you to work directly using our web:
Access your account on https://www.fiabee.com.
Click on "Files" on the side menu.
Download the file that you'd like to work with by clicking on the following icon:
One you've downloaded the file locally, you can make changes to it. When you're ready to upload the new version to Fiabee:
In https://www.fiabee.com, in the "Files" menu, click on the "Upload file" button.
Select the file you've downloaded and made changes to.
If you DON'T change the name of the file, Fiabee will detect that it's a new version of the same file and will automatically replace the previous version. All versions will be saved.
If you change the name of the file, Fiabee will interpret it as a new file and will not replace the previous version. These will be considered two different files.
Fiabee will then automatically update the new version (or the new file) in all of your other devices that synchronize with Fiabee.
1.9. Get more free space for your Fiabee account
In order to get more storage space added to your Fiabee account at no cost, just invite your friends to join. If they accept your invitation and correctly install Fiabee, both you and your friend will be rewarded free extra storage space.
Instructions for getting more free space by inviting your friends:
Login into your account on https://www.fiabee.com.
Click on "More Free Space" on the side menu.
On this next screen, you have 3 options to invite your friends to join and receive extra free storage:

Send invitations to friends by using your favorite social networks: Twitter, Facebook, LinkedIn and MySpace.
Email invitations by importing your Google Contacts.
Copy & paste your invitation link anywhere and share it as you wish.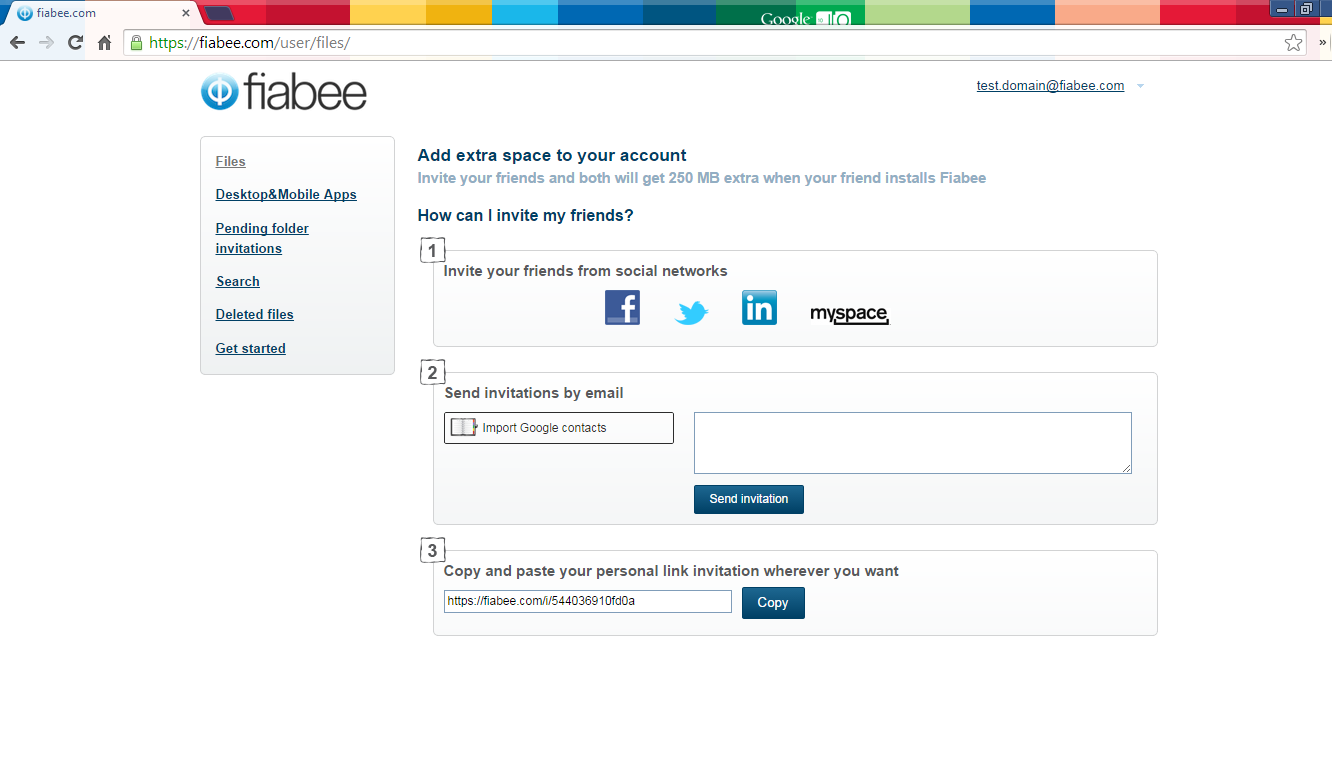 Available options for sending Fiabee invitations